The Com-Pac 35
Stand at the Helm of Performance with this Original, Harmonious Design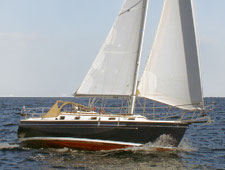 The Com-Pac 35 heralds the beginning of a new concept for Com-Pac Yachts, with Scheel keel, Euro-style transom, hardware selection, and interior layout.
The Com-Pac 35 was designed to be shoal-draft, stable, seakindly and fast. Performance is achieved by combining generous sail plan, moderate displacement, long waterline, generous beam, high ballast / displacement-ratio and the redeeming benefits of shoal-draft Scheel Keel.
Beating to windward or running before the wind, full sail or reefed, the Com-Pac 35 is responsive and swift.
Com-Pac 35 Specifications
Length:
36 ft. 9 in. / 11.20 m
Beam:
11 ft. 10 in. / 3.60 m
Draft:
4 ft. 0 in. / 1.22 m
Displacement:
12500 lbs. / 5,680 kg

(Click for larger image)