July 09, 2014
PARTS LISTS NOW AVAILABLE ONLINE
See the parts list page which is accessed from the bottom navigation bar
May 20, 2014
G. WINTERS SAILING CENTER GIVES SUN CAT OWNER A RED CARPET DELIVERY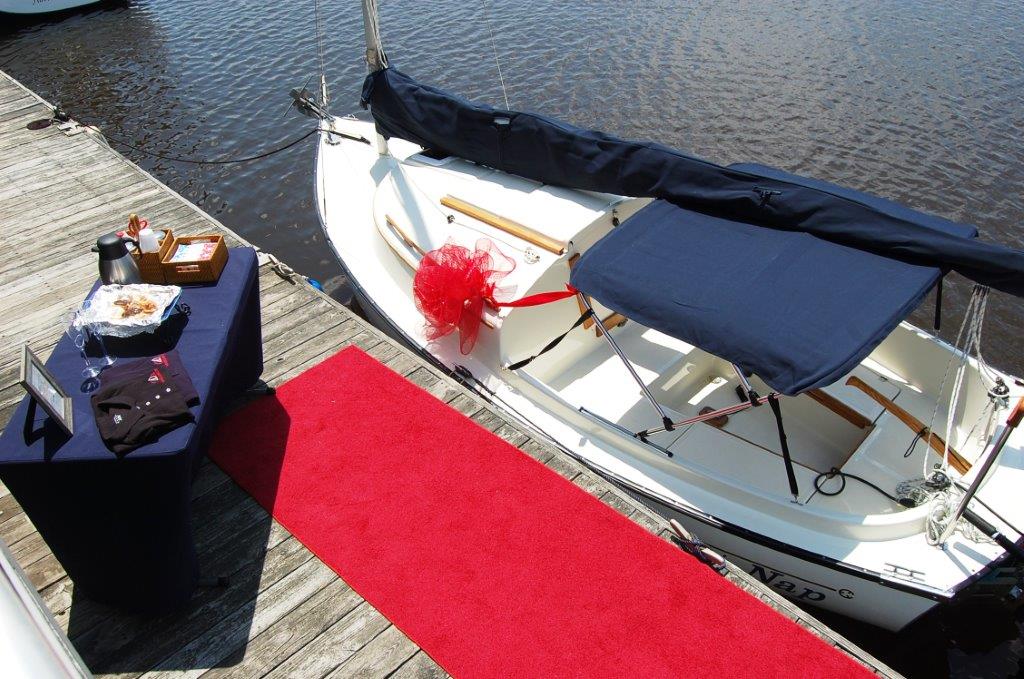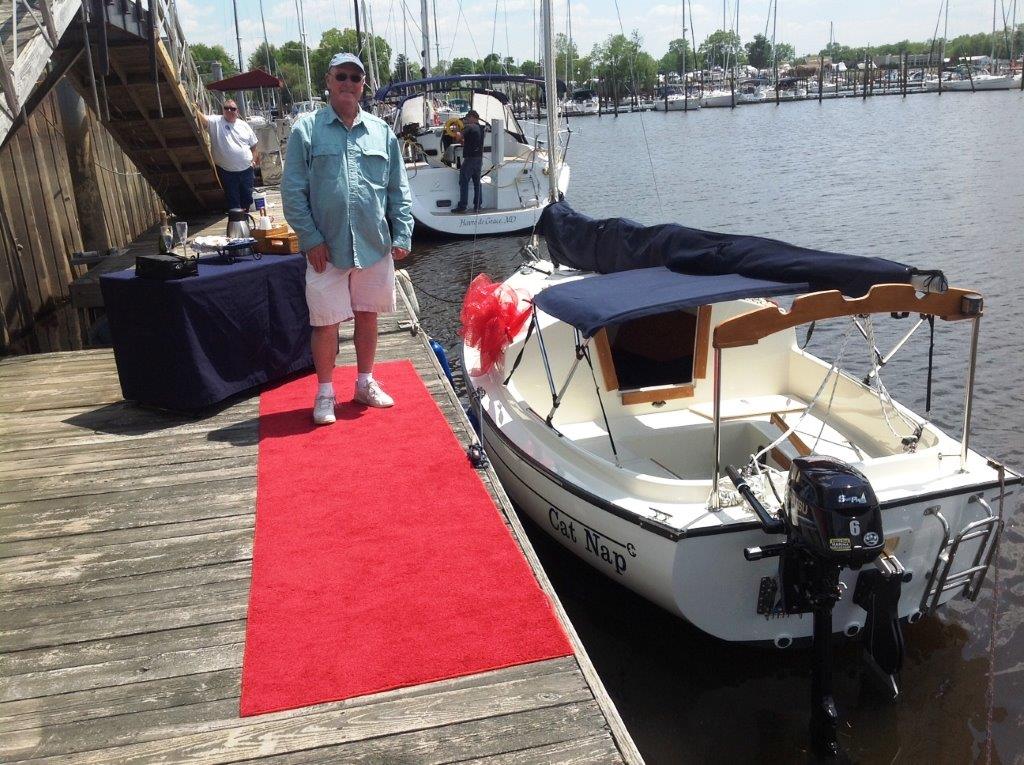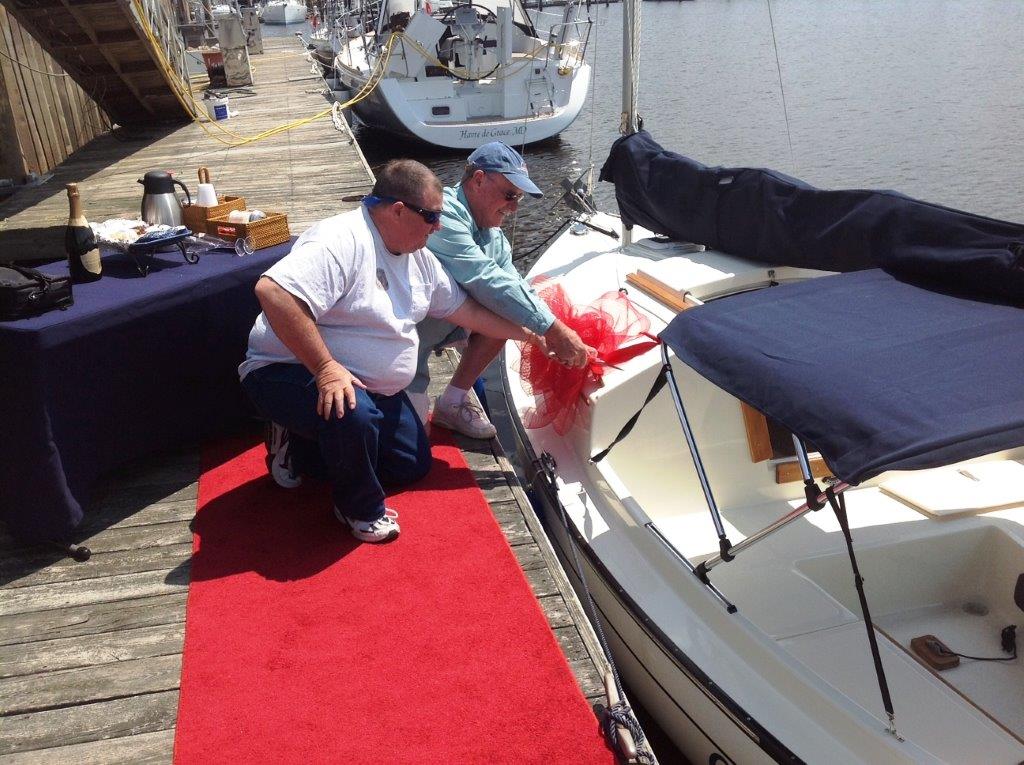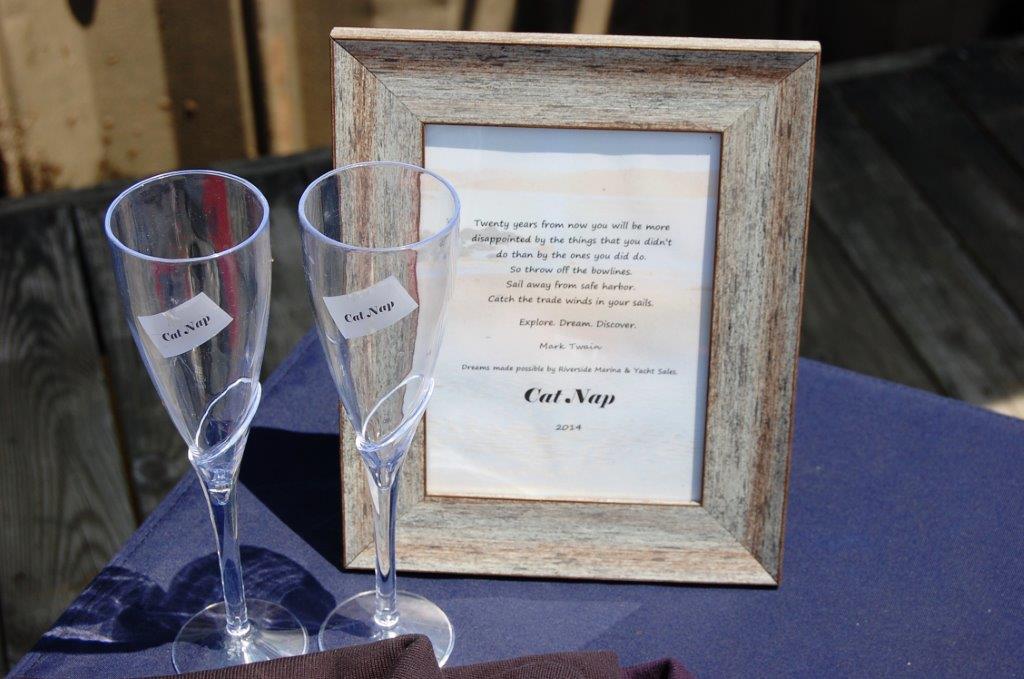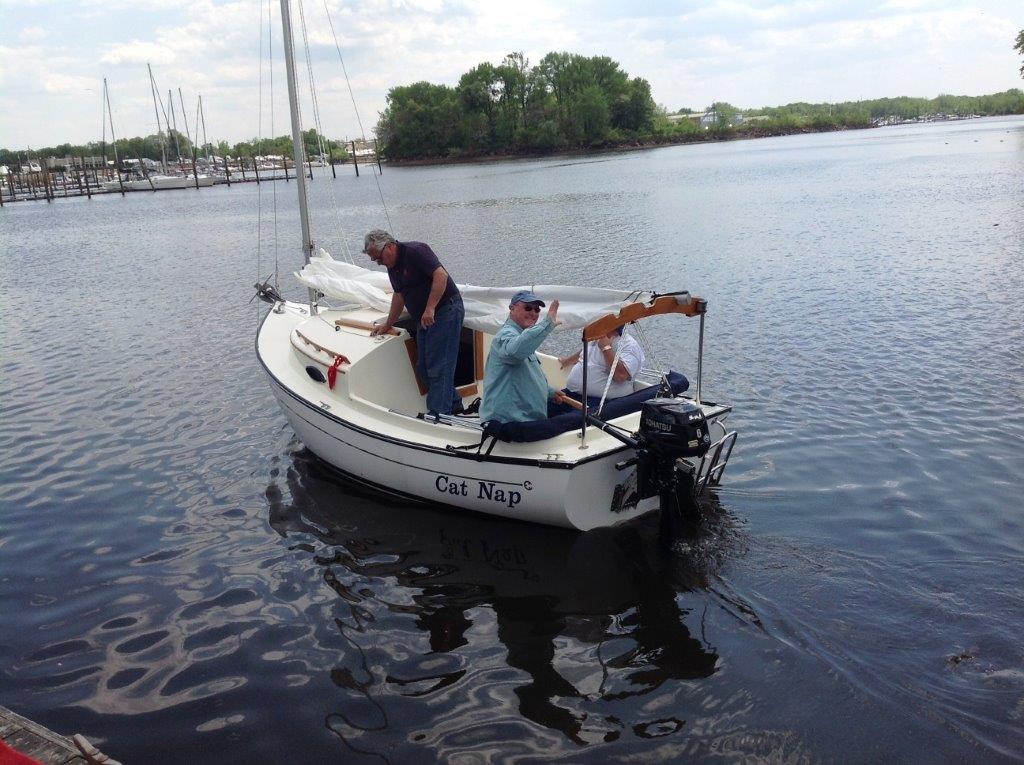 March 21, 2014
THE FIRST POWERBOAT EVER BUILT BY COM-PAC HAS BEEN LAUNCHED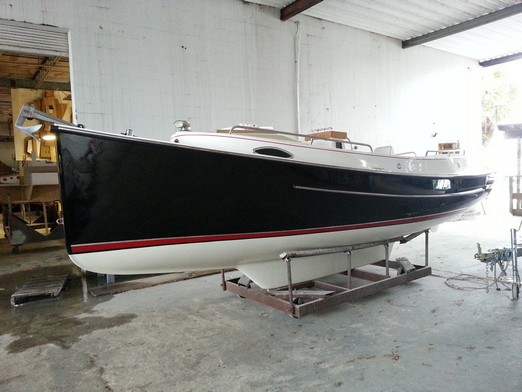 The first launch, affectionately referred to as The Launch here are the shop, was water tested on 3/13/14. We brought it back to the shop for some finishing touches and today, 3/21, placed it in our slip in Clearwater.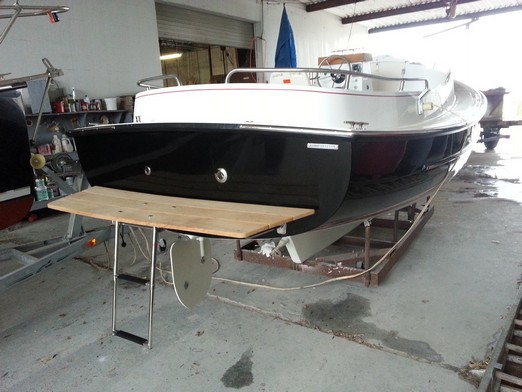 Although the standard launch will have a 2YM15 Yanmar diesel engine installed, the prototype is built with an Elco electric motor system which will be optional propulsion. Initial tests indicate the boat attains a speed of 5.3 knots with the Elco at full throttle, 1500 RPMs. At this RPM the projected run time on the fully charged batteries was 6 hours. As we backed the throttle down to 1000 RPMs the speed was 4.2 knots and a projected run time of 10 hours.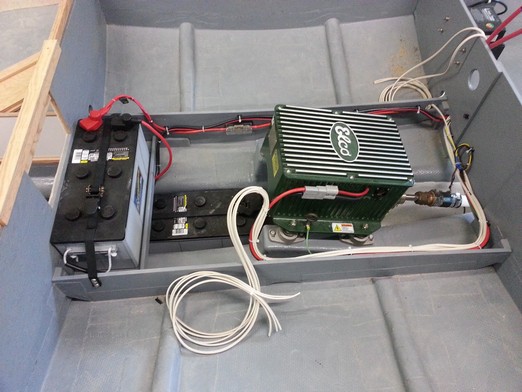 We built the prototype with a portable Honda generator built into a locker in the cockpit. We found that running at 1000 RPMs and with the generator running, the projected run time on the batteries ceased going down over time and they maintained their charge. The generator was keeping up with the motor demand. Although not a true hybrid system this setup will work well for extending the range up to several times vs. the range on a single battery charge. Just think of this as an alternate use of the generator, while having dinner at your favorite waterside restaurant the generator can be charging the batteries for the trip home and the sound from the enclosed locker is almost negligible to folks on the dock.

We still have to add Bimini's, cockpit cushions w/ backrests, and carpet for the cockpit floor. This prototype will entirely complete very soon.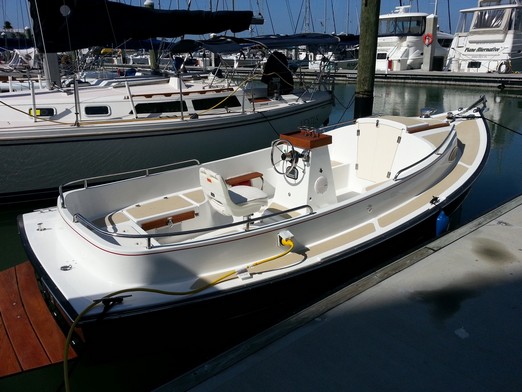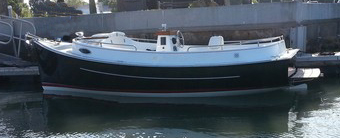 April 09, 2013
THE ECLIPSE IS NOW AVAILABLE WITH A DIESEL ENGINE
The prototype (seen below) was built with a 12D Two Westerbeke engine but from this yacht on the engine will be the Yanmar 2YM15. We have had a chance to test this model and it has worked out very well. There is nothing like being able to reach down and push a button for the iron genny when you need it.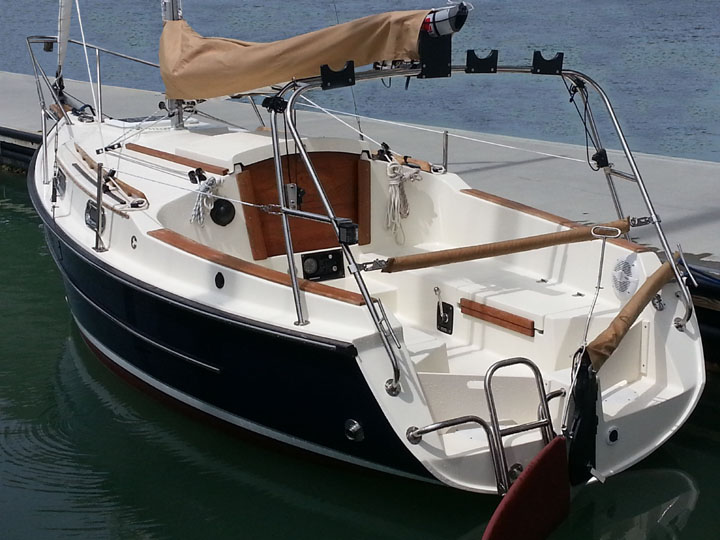 December 03, 2012
SAILING SHORT STORIES BY KEITH SCOTT of The Sailboat Co. in Richlands, NC
Check out these links for stories;
http://www.sailboatrichlands.com/history.html Com-Pac 23 History
http://www.sailboatrichlands.com/rscover.html Cruise of the Harriet II
http://www.sailboatrichlands.com/oracoke.html Cruise to Oracoke
http://www.sailboatrichlands.com/badweather.html Bad Weather Week
http://www.sailboatrichlands.com/shortstory1.html Annapolis North
http://www.sailboatrichlands.com/racefun.html Racing Can Be Fun
http://www.sailboatrichlands.com/27cruise.html Fort Pierce to Key West
http://www.sailboatrichlands.com/herbvoy.html ICW Voyage to New York
http://www.ipass.net/sailboat/sweet16.htm Sweet 16
June 07, 2012
OWNER OF 23 PILOT PROTOTYPE (HULL #1) COMMENTS
Just wanted to let you guys know I finally got my 23 Pilot House in the
water.

WOW is all I can say.

  

She is a wonderful boat.

  

Under sail and power.

   

All
worked fine.
I did all single handed including mast raising etc.

   



My first impression when seeing it being built was correct.

   

It is a perfect boat for me.   
Its at slip on the Chesapeake.

  

Going to Canada North Chanel in Fall.
Thanks so much
Eric Hughes
May 15, 2012
FRANK DURANT & WIFE FINISH 4 MONTH CRUISE IN 23 PILOT #2
After viewing the mock-up with Gerry and seeing the thought that went into the design, I placed the 1st order for this new model. This was my 4th time dealing with Hutchin,s and as always, Gerry co-operated with my modifications to make this boat a near perfect shoal water cruiser.
Soon after taking delivery, "Sadie Girl" was rigged, provisioned and launched on the St Lucie canal. The 4 months that followed saw her cruise south to the Florida Keys, back up to Ft Lauderdale in preparation to cross the Gulf Stream to Bahamas, the crossing to "the West End" at Grand Bahama Island, then on eastward through the Abaco island chain twice before once again 'crossing the stream' to return home.
The pilot house 23 proved to be a worthy cruiser that was well suited to the shallow waters we explored. The ability to take the helm inside during rain squalls or periods of rough weather with wave spray was a real treat. It's head is surprisingly large as is the Vberth. The diesel is frugal, has abundant power and I found this boat very easy to dock. The surprise is that it actually sails well. On several occasions we found ourselves in 20+ knot winds broad reaching with surfs exceeding 8 knots on the GPS….all the while in ample control. You give up a few degrees to windward with the shallow keel but are paid back with the shallow anchorages others wish they could enter. .
After the many miles under the varied conditions we cruised in, I found the 23 to have many plus's with very few drawbacks. She trailered easily, sailed well and was easy to handle motoring. I should mention the attention it drew at every marina or anchorage along the way. It seems everyone loves a unique, well designed smaller craft. All boats are compromises, but if you enjoy laid back shallow water cruising under power or sail, this feature filled little pilot house proves to be and excellent choice. Well done Hutchins!