August 08, 2016
NEW BOOK FROM AL SANTINI
The book is available at Barnes and Noble or Amazon as an E book or as a print on demand book. E books are $9.99 and print is $13.95.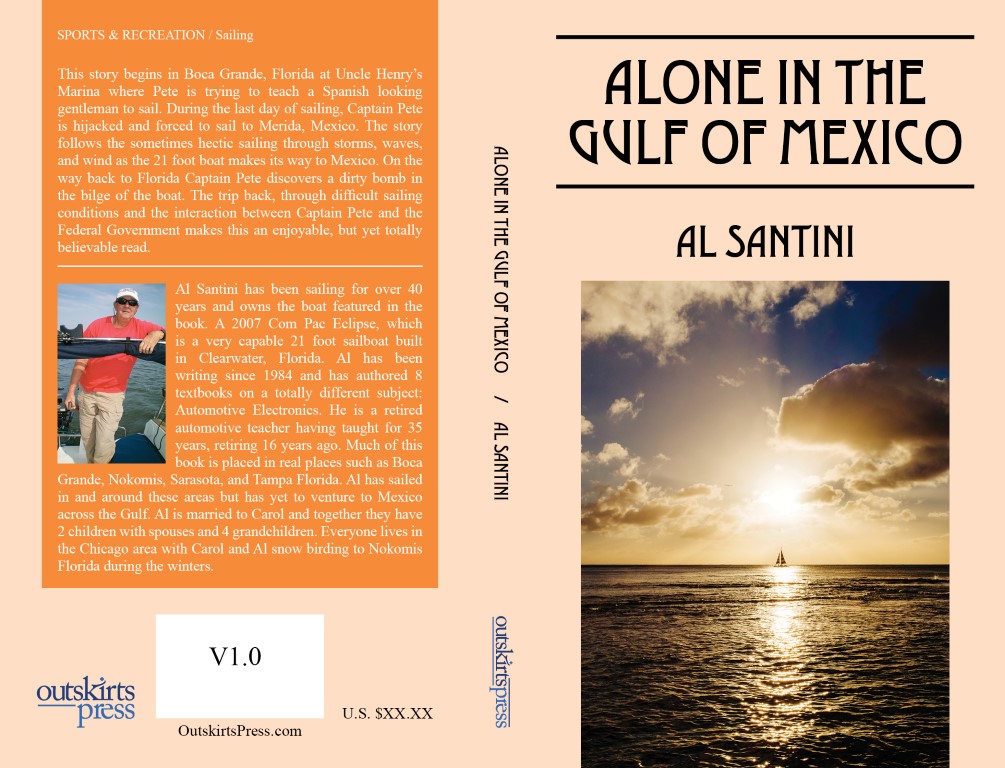 October 20, 2014
NEW BOOK FROM BOB BURGESS OFFERED ON AMAZON FOR KINDLE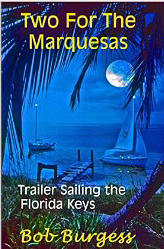 In his llustrated Amazon Kindle e-book
Two for the Marquesas: Trailer Sailing the Florida Keys
the author and three north Florida friends head for Key West towing two 16-foot liveaboard sailboats behind their vehicles to see if they can sail through the maze of mangrove islands and find their way to the isolated Marquesas Keys, some 20 miles west of Key West. Since they are all new to saltwater sailing Burgess carefully details this adventure as they solve various problems encountered along the way. Then he gives you the basics you need to catch your own free lobster supper as they do quite often along the way.
After that Bob takes you along on other sailboating adventures. In "Close Call" he and a buddy spend several days sailing seven miles off Key Largo's Pennekamp Coral Reef State Park trying to get a certain underwater photograph for an editor. In the process they are almost drowned by daily downpours and almost hit by a maverick hurricane that has turned around and is beating a path to their anchored boat in the middle of the night. Fighting 30 knot winds and pounding rain at 3 A.M. in their small sailboat how do you escape a hurricane that is almost on top of you? Bob tells you how they did it.

Then, if that isn't enough excitement, the author lets you join him aboard his Com-Pac 19 pocket cruiser, WindShandow anchored in Key Largo Sound after a day's diving offshore. Suddenly, in the middle of the night a severe storm drags his anchor free and blows him across the Sound at the mercy of the storm with no place to go but to smash onto the rocky shoreline that awaits him. Only one hidden thing wakes him up from a deep sleep with a terrible roar and prevents his untimely end but you will never guess what it is.

Finally, the author gives you some insider's secret tips about catching lobsters on the hoof and lets you join him and another buddy returning to the Keys for some serious lobster hunting using an underwater sled.

Bob (Robert F.) Burgess, author of the Handbook of Trailer Sailing, and a bunch of other treasure hunting and true adventure books, has sailed small sailboats since he was seven years old. He says that the best thing about a trailerable sailboat is that you can cruise to windward at 60 miles an hour, live aboard your boat wherever you park it, and voyage to any waterway you can reach by automobile. Once in the water it is your own private island afloat and it will go freely wherever you sail it. You get to savor balmy summer afternoons silently sailing warm tropical seas; toast golden sunsets at sundown, catch fish along the way and learn how to cook fresh lobsters slathered in melted garlic butter.... Well, someone's gotta do it. Here is Bob's tasty sample of that life style. Enjoy.
http://www.amazon.com/dp/B00OJQHVJO
October 09, 2014
LETTER FROM ECLIPSE DIESEL OWNER
Hi Gerry,

Hope you had a good summer and are doing well. I should have written sooner to tell you how much we are enjoying the Eclipse, now known as Helios. We have had some incredible sails with the kids, without the kids and just in general. I am still impressed everyday with the handling, the balance and the ease of sailing, not to mention the attention to detail evident in every aspect of the boat.

Last evening though, Helios was a real standout. Winds were brisk at 15+ mph with gusts out of the south to 23. Lori and I took Helios out at 4 pm for a quick sail out the harbor and into Huntington Bay to test our nerve in the higher winds. The boat handled perfectly with me spilling off some wind when I could in the higher gusts, and pointing a bit higher when I was caught off guard. My gps showed most of the sail in the 5.5 to 6.8 kent range....great sail!

As we were heading back we noticed only one other boat out there as it was quite gusty. It was a 35' benetteau with the jib up and flailing about 3/4 mile away. I kept my eye on it as it looked odd - the jib seemed to be cut loose at times and boat was meandering. I strayed from my line back into the harbour to get a closer look and as I got about 1/4 mile away I realized he had a distress flag up so I changed course to sail over. Sure enough, his engine quit and he couldn't sail back in dead into the south wind and begged for a tow. I was apprehensive but it was nearing dusk and I agreed, not knowing how my 20' eclipse would tow what he said was a "6 ton weight", against the wind. Well, after setting up a bridle and turning our handhelds to channel 19 for communication I started slowly. When the rope became taught I soon realized that it was like towing a dingy....I barely felt him at 2,000 rpms and towed at 5 mph back to the dock. This diesel you put in is amazing. It handled without any strain and we successfully made our first "rescue". This is in addition to the convenience of "pushing a button" and the boat's beautiful lines unspoiled by a clunky outboard hanging off the back.

I can't tell you how many people come over to me on the water and comment on the beauty and lines of the boat. We absolutely love it. If the boat sunk tomorrow (god forbid) I would buy another the next day. Great job and keep up the good work!

Best Regards,

Your very happy customer, Ted

July 09, 2014
PARTS LISTS NOW AVAILABLE ONLINE
See the parts list page which is accessed from the bottom navigation bar
May 20, 2014
G. WINTERS SAILING CENTER GIVES SUN CAT OWNER A RED CARPET DELIVERY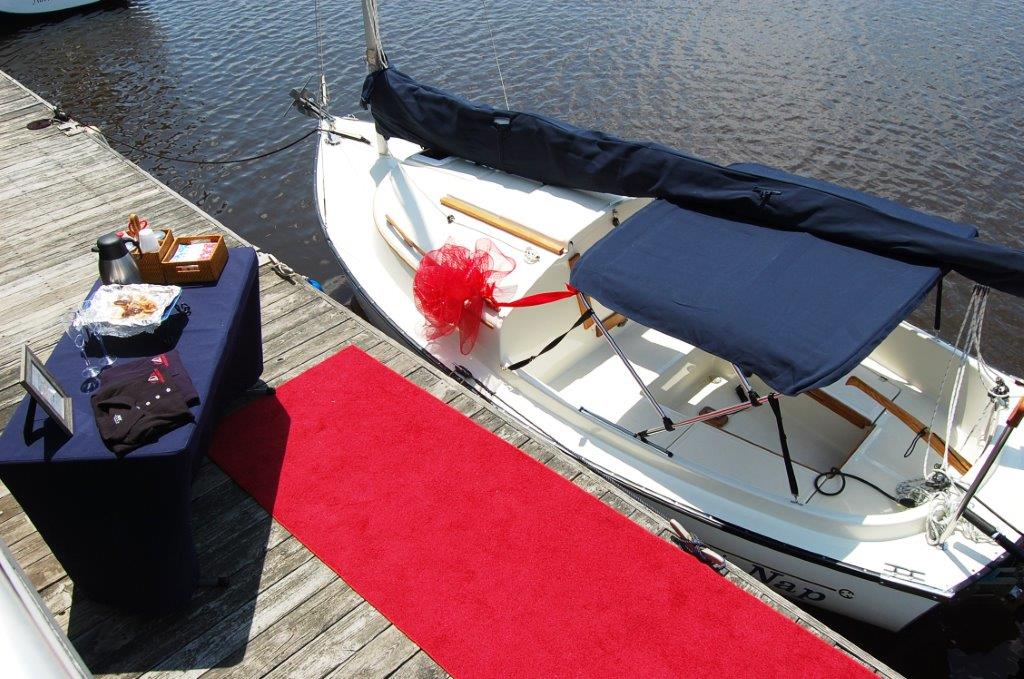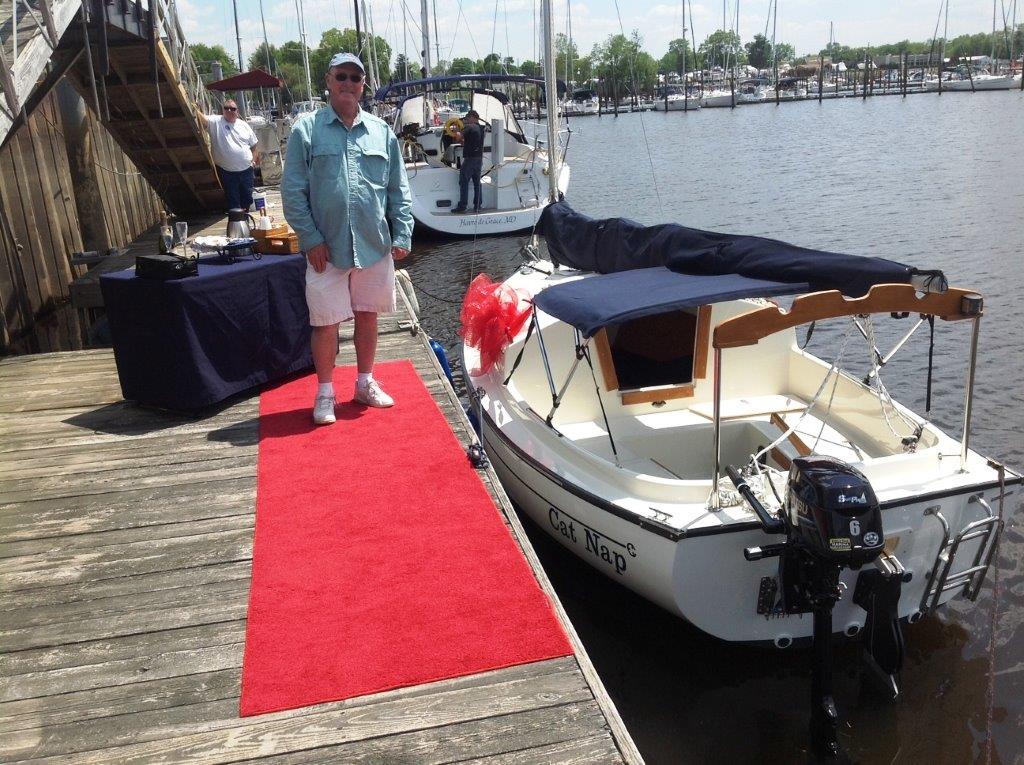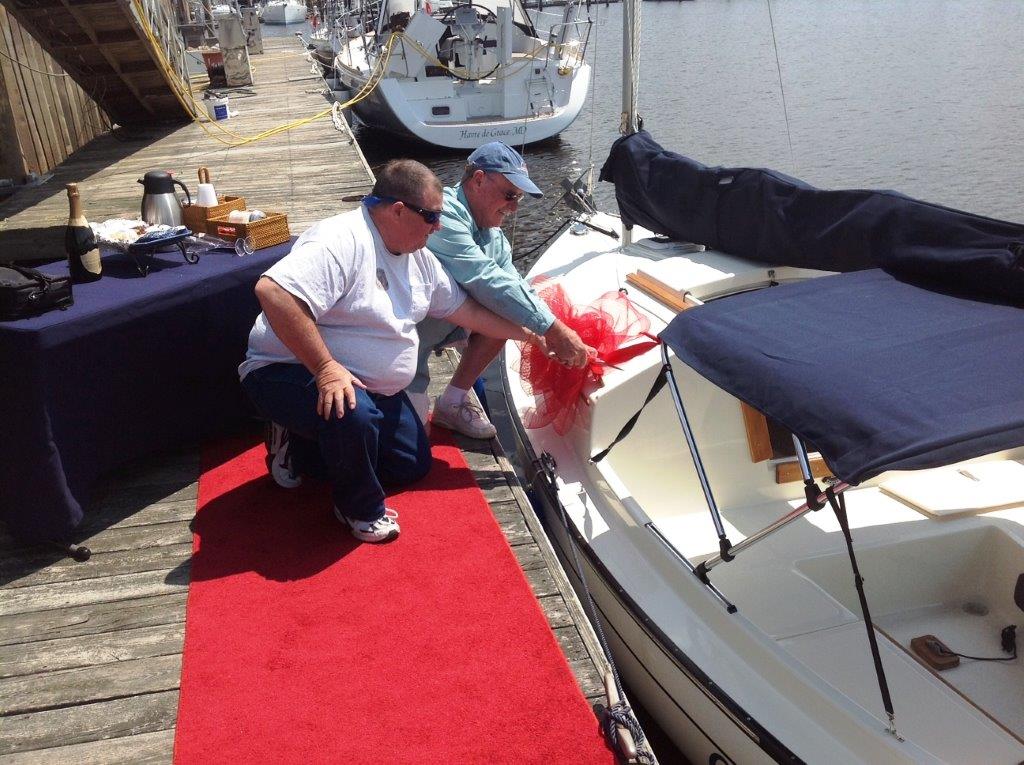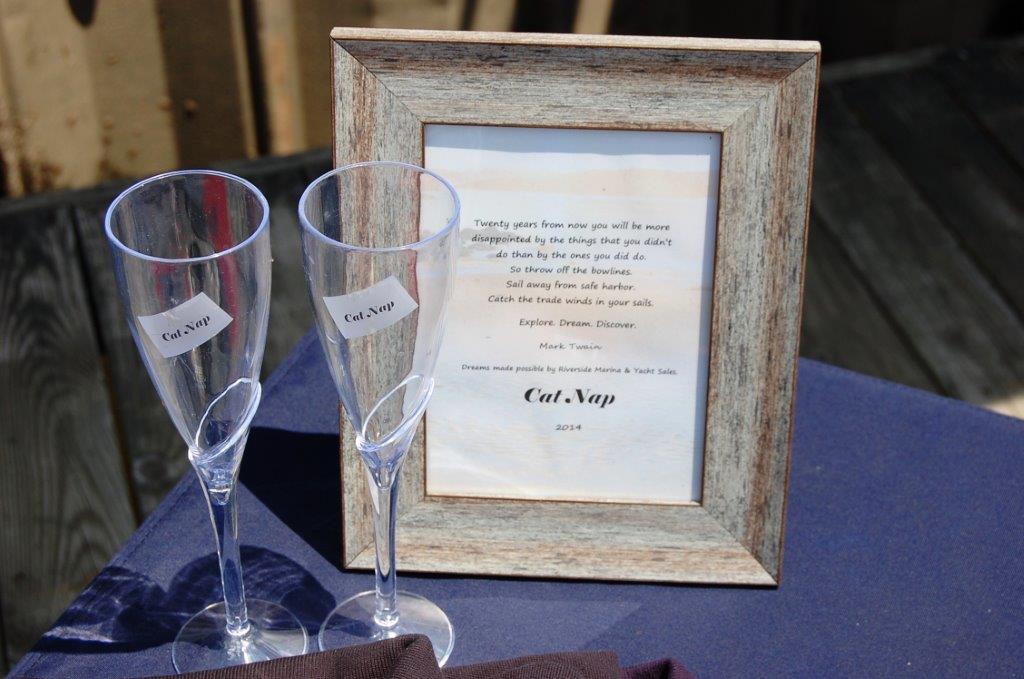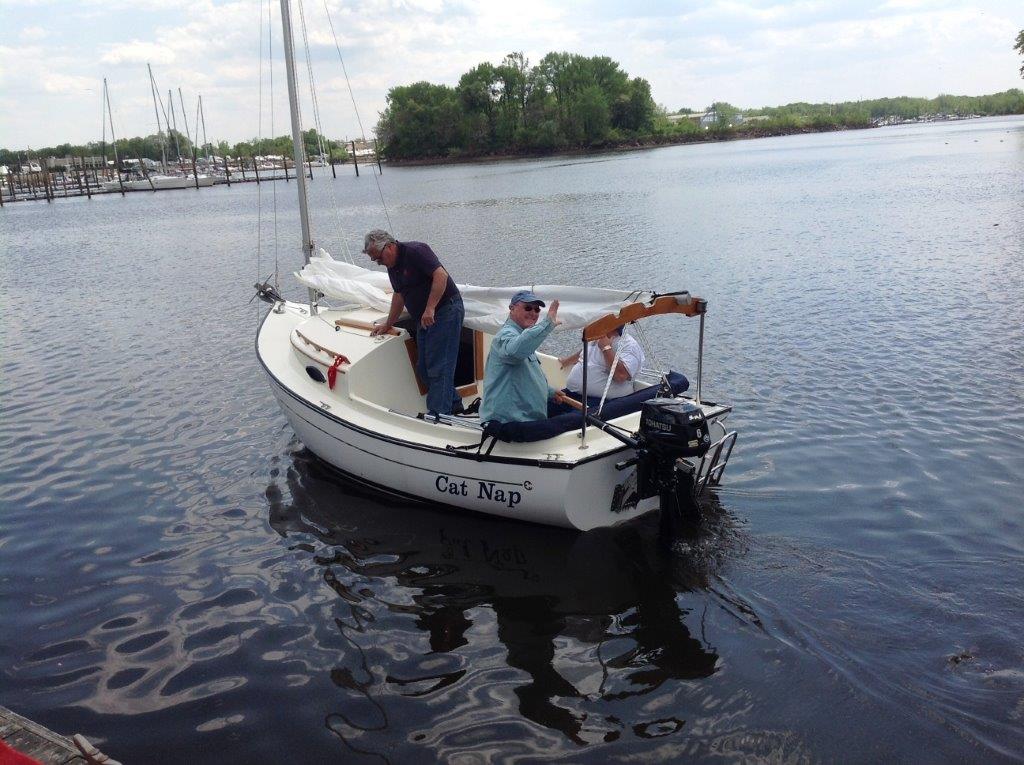 March 21, 2014
THE FIRST POWERBOAT EVER BUILT BY COM-PAC HAS BEEN LAUNCHED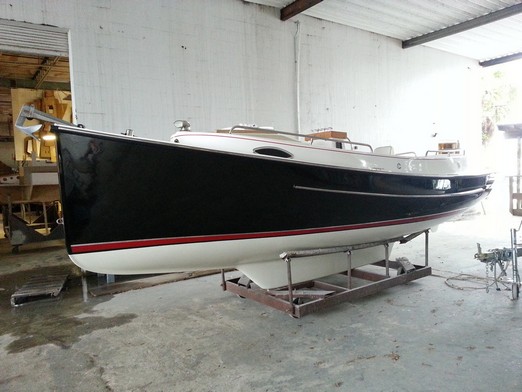 The first launch, affectionately referred to as The Launch here are the shop, was water tested on 3/13/14. We brought it back to the shop for some finishing touches and today, 3/21, placed it in our slip in Clearwater.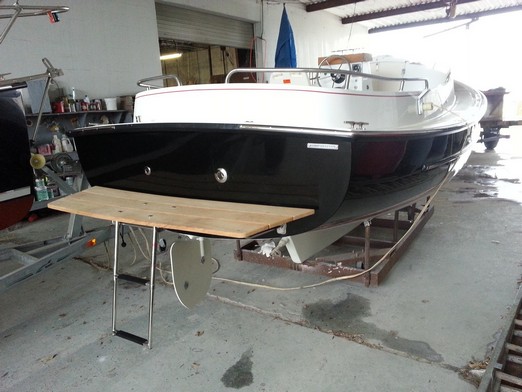 Although the standard launch will have a 2YM15 Yanmar diesel engine installed, the prototype is built with an Elco electric motor system which will be optional propulsion. Initial tests indicate the boat attains a speed of 5.3 knots with the Elco at full throttle, 1500 RPMs. At this RPM the projected run time on the fully charged batteries was 6 hours. As we backed the throttle down to 1000 RPMs the speed was 4.2 knots and a projected run time of 10 hours.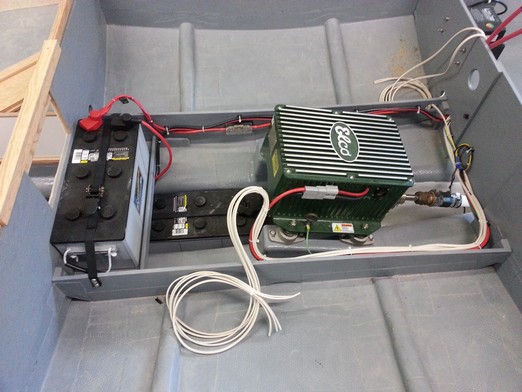 We built the prototype with a portable Honda generator built into a locker in the cockpit. We found that running at 1000 RPMs and with the generator running, the projected run time on the batteries ceased going down over time and they maintained their charge. The generator was keeping up with the motor demand. Although not a true hybrid system this setup will work well for extending the range up to several times vs. the range on a single battery charge. Just think of this as an alternate use of the generator, while having dinner at your favorite waterside restaurant the generator can be charging the batteries for the trip home and the sound from the enclosed locker is almost negligible to folks on the dock.

We still have to add Bimini's, cockpit cushions w/ backrests, and carpet for the cockpit floor. This prototype will entirely complete very soon.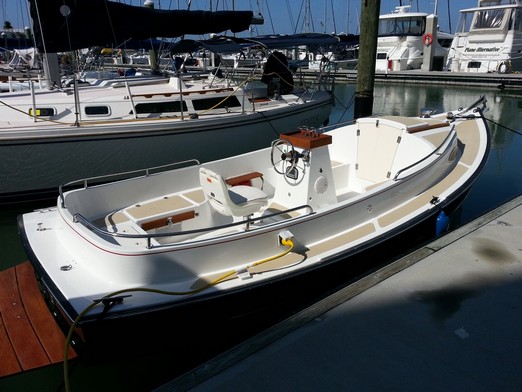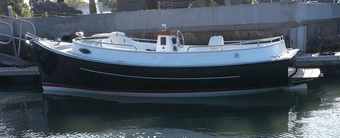 December 03, 2012
SAILING SHORT STORIES BY KEITH SCOTT of The Sailboat Co. in Richlands, NC
Check out these links for stories;
http://www.sailboatrichlands.com/history.html Com-Pac 23 History
http://www.sailboatrichlands.com/rscover.html Cruise of the Harriet II
http://www.sailboatrichlands.com/oracoke.html Cruise to Oracoke
http://www.sailboatrichlands.com/badweather.html Bad Weather Week
http://www.sailboatrichlands.com/shortstory1.html Annapolis North
http://www.sailboatrichlands.com/racefun.html Racing Can Be Fun
http://www.sailboatrichlands.com/27cruise.html Fort Pierce to Key West
http://www.sailboatrichlands.com/herbvoy.html ICW Voyage to New York
http://www.sailboatrichlands.com/sweet16.html Sweet 16
June 07, 2012
OWNER OF 23 PILOT PROTOTYPE (HULL #1) COMMENTS
Just wanted to let you guys know I finally got my 23 Pilot House in the
water.

WOW is all I can say.

  

She is a wonderful boat.

  

Under sail and power.

   

All
worked fine.
I did all single handed including mast raising etc.

   



My first impression when seeing it being built was correct.

   

It is a perfect boat for me.   
Its at slip on the Chesapeake.

  

Going to Canada North Chanel in Fall.
Thanks so much
Eric Hughes
May 15, 2012
FRANK DURANT & WIFE FINISH 4 MONTH CRUISE IN 23 PILOT #2
After viewing the mock-up with Gerry and seeing the thought that went into the design, I placed the 1st order for this new model. This was my 4th time dealing with Hutchin,s and as always, Gerry co-operated with my modifications to make this boat a near perfect shoal water cruiser.
Soon after taking delivery, "Sadie Girl" was rigged, provisioned and launched on the St Lucie canal. The 4 months that followed saw her cruise south to the Florida Keys, back up to Ft Lauderdale in preparation to cross the Gulf Stream to Bahamas, the crossing to "the West End" at Grand Bahama Island, then on eastward through the Abaco island chain twice before once again 'crossing the stream' to return home.
The pilot house 23 proved to be a worthy cruiser that was well suited to the shallow waters we explored. The ability to take the helm inside during rain squalls or periods of rough weather with wave spray was a real treat. It's head is surprisingly large as is the Vberth. The diesel is frugal, has abundant power and I found this boat very easy to dock. The surprise is that it actually sails well. On several occasions we found ourselves in 20+ knot winds broad reaching with surfs exceeding 8 knots on the GPS….all the while in ample control. You give up a few degrees to windward with the shallow keel but are paid back with the shallow anchorages others wish they could enter. .
After the many miles under the varied conditions we cruised in, I found the 23 to have many plus's with very few drawbacks. She trailered easily, sailed well and was easy to handle motoring. I should mention the attention it drew at every marina or anchorage along the way. It seems everyone loves a unique, well designed smaller craft. All boats are compromises, but if you enjoy laid back shallow water cruising under power or sail, this feature filled little pilot house proves to be and excellent choice. Well done Hutchins!