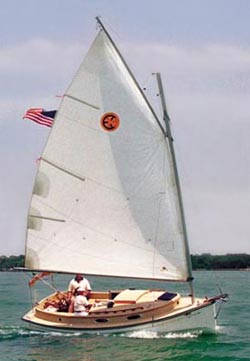 The heritage of the Horizon Cat is the famous Cape Cod shoal-draft cat-rigged work boats that plied Nantucket and Vineyard Sounds during the 1900s, but the Horizon Cat is designed, built and outfitted as a weekender for the cruising couple.
The Com-Pac Horizon Cat
A New Breed of Cat Boat
The Horizon Cat is a classic boat for the diehard traditional sailor — a real Cape Cod cat with a shallow fin keel for added stability and windward performance.
A high-aspect kick-up rudder is incorporated for convenience and extremely light helm. Quick, nimble, and comfortable, the Horizon Cat has a large cockpit and extensive accommodations.
In addition, the exclusive Mastendr™ mast raising system revolutionizes the trailer-boating experience.
Horizon Cat Specifications
Length Overall
20 ft. 0 in. / 6.1 m
Beam:
8 ft. 4 in. / 2.54 m
Draft, board up:
2 ft. 2 in. / 0.66 m
Draft, board down:
5 ft. 0 in. / 1.52 m
Displacement:
2500 lbs. / 1136 kg

(Click for larger image)