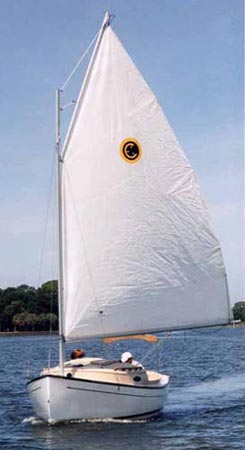 The 17' Sun Cat was designed by Clark Mills as a shoal-draft daysailer and overnighter that would rig quickly, sail easily, and comfortably accommodate family and friends with plenty of space for gear and stores.
The Com-Pac Sun Cat
A New Breed of Cat Boat
Clark Mills wanted to design a shoal daysailer that would rig and sail easily, quickly, and comfortably — as well as accommodate his family and friends. The Sun Cat was designed as an easily driven, roomy day boat and overnighter with a shoal draft to gunk hole along coasts and in harbors not accessible to more burdensome yachts.
Outfitted with the Mastendr™ quick rig sailing system and stainless steel centerboard with fiberglass trunk, the Sun Cat will provide convenient trailering and maintenance-free enjoyment.
Individuals who appreciate timeless design and quality fabrication, who wish to explore coastal waters and quiet creeks, and who demand value from a yacht, will warmly relate to the "new tradition" that the Sun Cat brings.
Sun Cat Specifications
Length:
17 ft. 4 in. / 5.28 m
Beam:
7 ft. 3 in. / 2.21 m
Draft, board up:
1 ft. 2 in. / 0.36 m
Draft, board down:
4 ft. 6 in. / 1.37 m
Displacement:
1,500 lbs. / 682 kg

(Click for larger image)