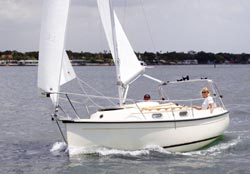 The Eclipse is designed for comfort and ease of handling, but she need not apologize for her speed or agility.
The Com-Pac Eclipse
The Eclipse's unique styling is a modern approach to traditional appearance
Designed for ease of trailering and of set up with the Mastendr™ System. This new sloop from Hutchins has been designed with shallow 18" draft board up and 62" board down.
The plum shallow entry bow allows this sloop to guide thru the roughest of sea with comfort. The cabin house is extended outboard giving interior space that is unbelievable for extended cruising. The transom is clutter free to provide easy boarding and the most convenient access to your outboard motor.
You will find this "New Style" Sloop from Com-Pac will be fun and exciting to sail and cruise.
Com-Pac Eclipse Specifications
Length Overall:
21 ft. 4 in. / 6.50 m
Beam:
7 ft. 4 in. / 2.24 m
Draft, board up:
1 ft. 6 in. / 0.70 m
Draft, board down:
5 ft. 2 in. / 1.57 m
Displacement:
2200 lbs. / 1000 kgs.

(Click for larger image)