The Com-Pac Legacy Sport
All the convenience of our cat boats in a sloop-rigged daysailer with a 9' cockpit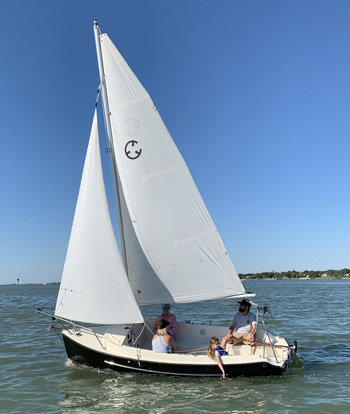 The sloop-rigged Legacy Sport gives you and your friends & family more room to stretch out for more daysailing fun.
The Legacy Sport is a daysailer that offers all the fun of the popular Com-Pac Legacy, but downsizes the cabin to a small forward storage area in order to make room for a bigger 9' cockpit. The bigger cockpit means more room to stretch out and more room for family and friends.
Standard equipment includes:
BoomTendr™ Plus, Quick Rig Sailing System...Simple and safe mast raising from the cockpit
Main & Jib (lapper)
Jib on hoistable furling system
Stainless Steel Centerboard
9' Self bailing cockpit
Genoa track & swiveling bull's-eyes
Stainless steel bow sprit w/anchor roller
Rope deck pipe
Three stainless steel mooring cleats
Stainless steel bow rail & stern arch
Kick up rudder
Stainless steel motor bracket with polyboard mount
Ash tiller
The Legacy Sport features the BoomTendr™ Quick Rig Sailing System. The boom and sail never leave the mast. Simply unsnap the mainsheet and fold the boom up to the mast, then fold everything down for trailering.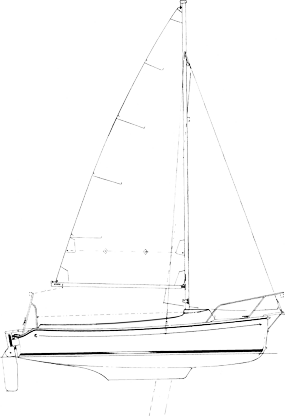 (Click for larger image)
Com-Pac Legacy Sport Specifications
Length Overall:
16 ft. 6 in. / 5.03 m
Beam:
6 ft. 0 in. / 1.83 m
Draft, board up:
16 in. / 0.41 m
Draft, board down:
3 ft. 6 in. / 1.07 m
Displacement:
1000 lbs. / 454 kg
Ballast:
400 lbs.
Sail Area:
130 sq. ft.
Mast Height Above Water:
22'